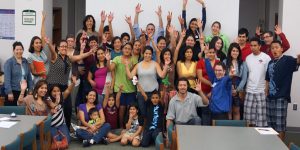 El Programa Juntos une a organizaciones, programas y líderes de la comunidad para proveer a estudiantes latinos (grados 9vo al 12vo) y sus padres el conocimiento, las habilidades, y los recursos para prevenir que los jóvenes abandonen la escuela. Incluso para animar a las familias a que trabajen juntos para que sus hijos asistan a un colegio comunitario o universidad.  
Juntos está organizando una serie de 6 sesiones educativas, con temas que incluyen:
Oct. 20 -Cómo hacer que la educación sea una meta familiar

Oct. 27 – Comunicacion entre la familia y la escuela

Nov. 3 – Los requisitos para graduarse

Nov. 10 – Cómo financiar los estudios de educación superior 

Nov. 17 – Cómo solicitar el ingreso a la universidad

Nov. 24 – Cómo hacer un plan de acción
Estas sesiones educativas son gratis.  Las sesiones se llevarán a cabo los martes, de 6 a 7 p.m.  Si le interesa participar en este importante programa, registrarse aquí.
Si tiene preguntas sobre este programa, comuníquese con: Sarah Hawks -Juntos Wisconsin Coordinator – sarah.hawks@wisc.edu 262-767-2916
Juntos Wisconsin provides Latino 9-12th grade students and their parents with knowledge, skills, and resources to prevent youth from dropping out and to encourage families to work together to ensure student academic success
Juntos is hosting 6 workshops from 6-7pm on the following dates:       
Oct. 20th -Making Education a Family Goal 

Oct. 27th – Family and School Communication

Nov. 3rd- Requirements for Graduation

Nov. 10th – How to Finance Higher Education 

Nov. 17th – Applying for College

Nov. 24th – Creating a Plan of Action
These workshops are free.  If you are interested in participating in Juntos, please register HERE.
For more information contact: Adam Trunzo -Juntos Wisconsin Coordinator adam.trunzo@wisc.edu 715-538-2311 ext. 210 or your local Extension office