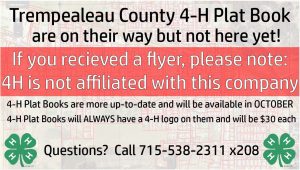 Plat Books
Trempealeau County Plat books are available through the Trempealeau County 4-H Leaders. This is one way to support your local 4-H Program!
Cost?
The cost per book is $30.00. We can ship them for $5.00 per book. Checks or money orders should be made out to 4-H Leaders Board. 
Where Can I Find Them?
Extension Trempealeau County Office- Whitehall
Centerville Coop
Co-op Credit Union- Galesville
Independence State bank
NRCS Office- Whitehall
Pietrek Service Station
Register of Deeds
State Bank of Arcadia
Waumandee State Bank – Blair
Waumandee State Bank- Whitehall
Waumandee State Bank- Arcadia
Other Resources