4-H is a dynamic youth organization across America where young people learn leadership, citizenship, and life skills by participating in 4-H and community activities.  In Trempealeau County there are nearly 300 4-H members that belong to one of the 12 community clubs.
The program is not only about getting youth more involved, but getting families involved as well.  4-H is dedicated to help create connections between youth and adults in order to help everyone grow and develop through the programs that are hosted, community activities, club involvement, and service.
The 4-H pledge sums up what 4-H is pretty nicely: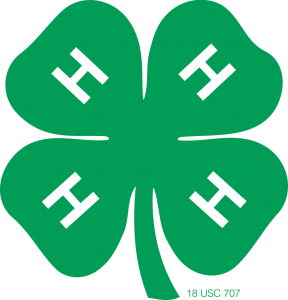 I pledge…
my HEAD to clearer thinking,
my HEART to greater loyalty,
my HANDS to larger service,
and my HEALTH to better living
for my club, my community,
my country, and my world!
To learn more about what 4-H is please follow this link HERE.
What does the 4-H Program offer in Trempealeau County?
The positive development of our young people is our highest priority; the most effective way to accomplish this is through our 4-H Community Clubs where the resources and educational programs of the University of Wisconsin are made available to Trempealeau County families. Major programming centers around:
Encouraging the positive development of 4-H youth
Offering hands-on learning experiences for 4-H youth
Encouraging environmental awareness and appreciation for all youth in the County
Highlights of current efforts include:
Strengthening 4-H Community Clubs to provide a strong sense of belonging and community for youth and their families
Working with Project Leaders through problem-solving and project workshops to best utilize the educational resources and programs of the University of Wisconsin Department of Youth Development
Providing opportunities for youth to develop leadership skills 1) by serving as members and officers on the Trempealeau County 4-H Leaders' Board and 2) by attending one of nine club officer training sessions offered each year
Strengthening the 4-H Leaders' Association by developing the teaching and leadership skills of adult volunteers
Offering four New Leader Orientations annually to help adult volunteers contribute more effectively to the 4-H Program
Working closely with the Trempealeau County Agricultural Society to assure an annual County Fair that adequately showcases the efforts of our County's youth